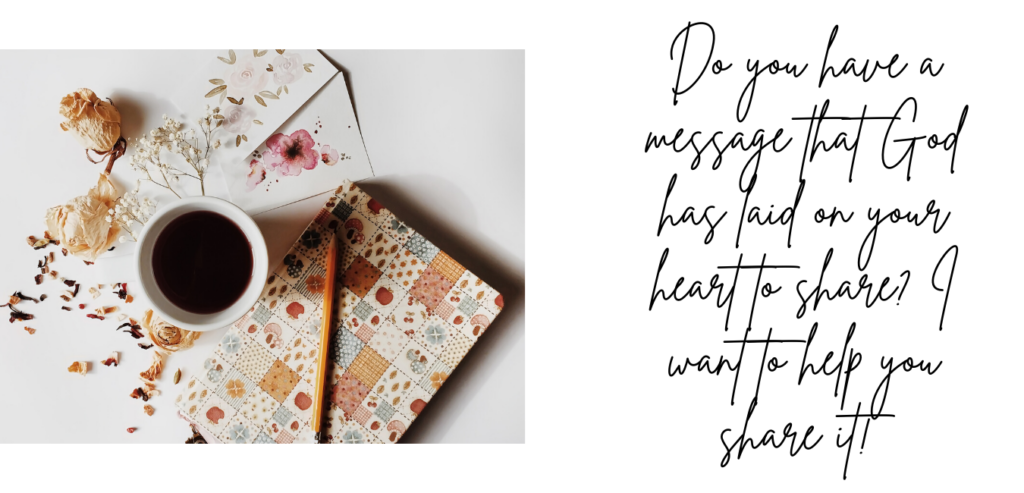 One of my desires as a writer is to help support and uplift other writers by allowing them space to share their God-given stories! I'm looking for writers who feel the tug of the Holy Spirit on their heart to share their honest, raw and love-filled words with other women as a means to equip and encourage them in their personal walk with God.
If you are a writer who has a message on her heart to share, I would love to feature you!
Submission Guidelines
Please only submit original pieces that have not been featured anywhere else, including your own personal blog.
Articles will need to be 800-1200 words in length. Only articles submitted as a Word document will be considered.
If you are quoting from the Bible, please include the Scripture passage reference along with the translation in which you are quoting from.
The tone of your article will need to be friendly and inviting, laced with understanding and grace. As you write your piece, picture yourself sitting across from your reader, drinking a cup of coffee or tea with her as you talk about life and what God is teaching you. But, at the same time, don't be afraid to be direct and to the point!
Please make sure to proofread your article before sending it in, but also know that if your piece is accepted, I reserve the right to make any edits regarding grammar or content if I believe it will fit better with the tone or SEO of celiaamiller.com. I will always notify you of any content changes before moving forward with publishing the piece!
Please email your proofread piece to celia@celiaamiller.com with your name as you would like it printed, a proposed title, your headshot, a brief 3-4 sentence third person bio and any links to your website and socials you would like me to share.
I will reach out within 2-4 weeks if your submission has been accepted! If you do not hear back from me within that time frame, you may pull your piece and submit it to another publication.
If your piece is accepted, you will not receive financial compensation but you will walk away with the possibility of growing your audience and touching the lives of those who read your good and God-given words!
Topics
Please note that the following topics are just suggestions to get you started! If the message on your heart doesn't fit exactly within these topics, that's ok! Send it my way!
Faith
Relationship Over Religion
Prayer
Identity
Community
Diversity (culture, race)
Rest
Trials (suffering, grief, etc.)
Gratitude
Holiday Pieces (Christmas, Easter, Thanksgiving, etc.)
Statement of Faith
By submitting your article you are agreeing to the following statement of faith:
I believe in a literal 7-day creation as stated in Genesis and that the creation, created perfectly by God, is now corrupted because of man's willful disobedience and sin.
I believe in the Trinity which is the Father, Son and Holy Spirit.
I believe in Jesus as God incarnate and that His death and resurrection alone set me free from the bondage of sin and death.
I believe that baptism by immersion is the outward showing of the inward workings of the Holy Spirit.
I believe in a literal Heaven and a literal Hell and that those who trust in Jesus as their Savior will one day go to Heaven to be with Him for eternity while those who choose not to believe in Jesus as their Savior will one day go to Hell and live separate from God for eternity.
I believe that the Bible is the Word of God and all of it is God-breathed, good and absolutely true.