Reflections on the Sacredness of Ash Wednesday
Ash Wednesday was never a day that really stood out to me growing up. I wasn't raised in a church that followed the liturgical seasons, so Ash Wednesday was just a day where I would occasionally see random people with smudges on their foreheads, not understanding — in my child's mind — why they didn't wash them off.
But over the last year, following and engaging with the liturgical calendar has become a seasonal rhythm of mine — a growing interest and hunger to enter into the life of Jesus.
Because ultimately, that's what the liturgical calendar is. It's a cycle of church seasons that begins with Advent and then moves to Christmas, Epiphany, Lent, Easter, and Pentecost, and then ends with Ordinary Time. This cycle invites believers to walk through the life and ministry of Jesus and the story of God's people through a series of liturgical, or church, seasons. It's a beautiful way to live an embodied faith — embodying the very life of Jesus as we enter into His story and allow His Spirit to shape us as we engage and commune with Him in each season.
The season of Epiphany ended this year on Wednesday, February 22nd, 2023, also known as Ash Wednesday. Maybe you're like me and you didn't grow up hearing much about these holy days, but you'd like to now. Maybe you're here and you've been walking through the liturgical year all your life so you're very familiar with Ash Wednesday. Either way, I think remembering the deep meaning behind Ash Wednesday is beneficial for us all in our faith journeys. And as someone who is just getting to know the liturgical seasons, I'd like to share my Ash Wednesday reflections with you.
Ash Wednesday marks the start of the liturgical, 40-day, season of Lent, beginning February 22nd and ending on Easter Sunday, which happens to land on April 9th this year. Ash Wednesday invites us to remember and honor our mortality and to acknowledge that God is ultimately the One Who holds our lives in His able hands.
It's a call to surrender, let go, and practice humility and repentance as we fully enter into our humanness.
That's what the ashes represent — the smudges on the foreheads of believers who have chosen to receive this sacred gift is an outward representation of an internal reality that we all know to be true but sometimes have a hard time swallowing.
The true reality that from dust we came and to dust we shall someday return.
Those were the same words whispered over me as I bent my head low to receive the ashes on my own forehead this year.
"From dust you came and to dust you shall return."
It was my first time ever participating in an Ash Wednesday service, and I would be lying if I told you I didn't feel like an outsider — like a beginner. In fact, I almost talked myself out of going up until the very last minute. I didn't realize it at the time, but looking back now, the ache in my soul and the hunger for a wholeness I can't create on my own is what ultimately brought me to that beautiful, stain-glassed Catholic chapel.
It's what drove me to stand in line with the hundreds of other people who were surely longing for something similar. Aching to finally lift up our hands in surrender and admit that we are human in need of a holy, good, and great God Who for some mysterious reason decided to create beings in His own likeness — His own image — and allow them to be vulnerable and exposed to life and death.
But as I stood there, letting that woman with the kind smile and the gentle voice place an ashen cross on my forehead, I realized that leaving me human — vulnerable and exposed to all that life and death will bring — also leaves me open and exposed to the glory and richness of a life lived fully with Jesus. And the reality hit me right then and there of how beautiful it is that even when the elements of this life wound and tear at my heart and soul, I am never left alone.
Someone is there, always, choosing to enter into my humanness. His Name is Jesus, and He knows exactly what it's like to be human, too. He knows the fear of death better than anyone, having lived through it Himself. And I'm in awe that I can even say I'm created and loved by a God Who lived through death so that He could bring me to life, too.
The truth is though, I often feel very disconnected from the reality of my frail mortality, and I'd like to think I'm not alone in that. After all, we weren't meant to live separated lives, and death seems like the ultimate separator. We were created to walk with God and each other in intimate communion for all eternity.
But then sin entered the world, separating God from His people and separating His people from each other. We sense the truth of that in our bones even now in the lonely hollow ache we sometimes feel nagging right at the center of us. And the prophet Isaiah knew it, too, when he said, "But your iniquities have separated you from your God; your sins have hidden his face from you so that he will not hear." (Isaiah 59:2 NIV)
The ashes on our foreheads though, all gray and smudged, remind us that while our sin separates us, we serve a compassionate God Who is constantly calling us back to Himself. There is always the invitation to return Home to God in repentance, and as we receive our ashes and ask for that forgiveness, He is always faithful to freely give it. And it's there, in the breaking — in the weeping and mourning and asking for mercy — that we find our humanness. It's there that we find God With Us.
As I returned to my church pew after receiving the ashes, I couldn't help but think of Isaiah 61:1-3,
"The Spirit of the Sovereign Lord is on me,
because the Lord has anointed me
to proclaim good news to the poor.
He has sent me to bind up the brokenhearted,
to proclaim freedom for the captives
and release from darkness for the prisoners,
to proclaim the year of the Lord's favor
and the day of vengeance of our God,
to comfort all who mourn,
and provide for those who grieve in Zion—
to bestow on them a crown of beauty
instead of ashes,
the oil of joy
instead of mourning,
and a garment of praise
instead of a spirit of despair.
They will be called oaks of righteousness,
a planting of the Lord
for the display of his splendor." (NIV, emphasis added)
Our God is a redeeming God. He is a God of reconciliation. That word, reconciliation, comes from the Latin word 'conciliare' which means to 'bring together'. He's a God of healing, wholeness, harmony, justice, forgiveness, and love. He loved us so much that He sacrificed His One and only Son, Jesus, to die a brutal death He didn't deserve so that we could be reconciled to Him forever.
Beauty instead of ashes.
Joy instead of mourning.
Praise instead of despair.
Deeper than the reality of our mortality is the sacred reality that we will one day be completely reconciled to Christ, in the flesh, walking and talking and laughing, and living. All will be restored, all will be healed, and all will be made whole.
Ash Wednesday is the beginning of that dawning reality — that slow walk — toward Resurrection Sunday. The Sunday that rocked hell to its core, demons and the devil himself trembling with fear and terror. The Sunday that caused angels to cry out in victory as they pumped their fists toward the sky and called out praises to their triumphant God.
Make no mistake — there was a bloody war waged for your soul, and the good news is that the good God won.
So I sit in my church pew on Ash Wednesday, with an ashen cross smudged across my forehead, reminded that my present pain, my hollow ache, is only a temporary reality.
Beauty instead of ashes isn't a 'maybe' thing. It's a for-sure thing. It's a promise from God. And as we receive the ashes on Ash Wednesday, we're reminded that Jesus fills in all of the gaps between our present pain and the eternal joy that awaits us.
Wholeness is coming.
Sunday is coming.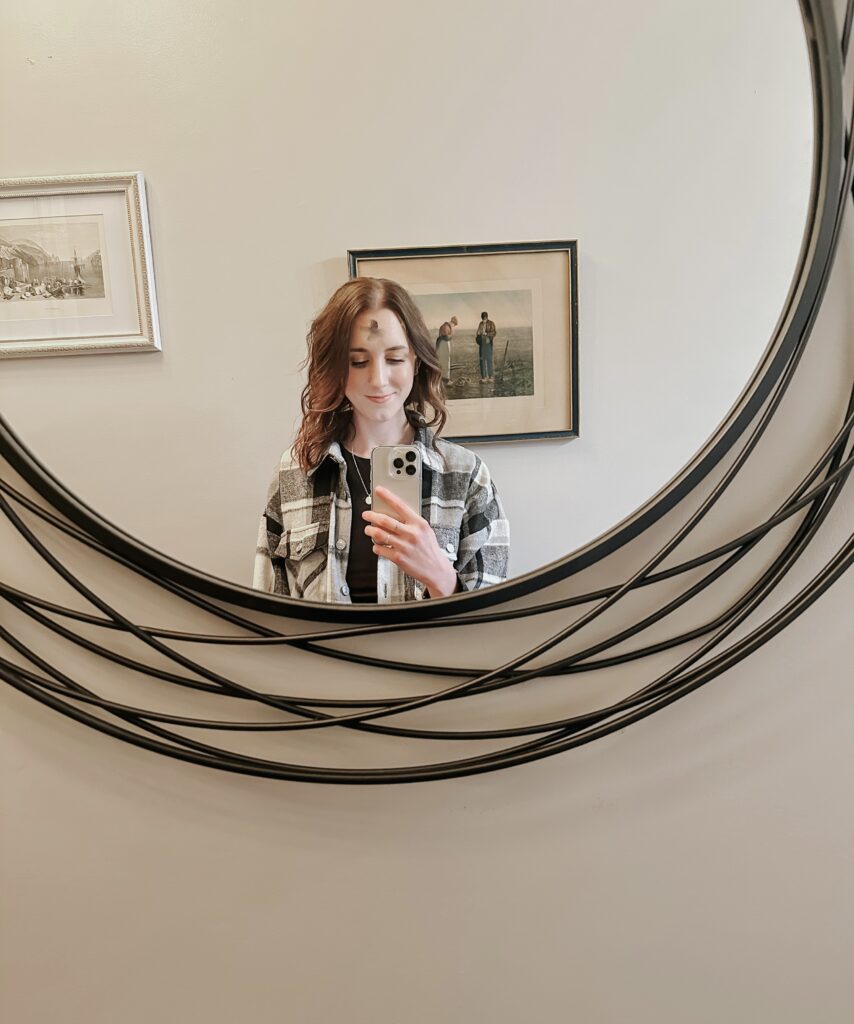 A Liturgy for Ash Wednesday
"From dust you were made
and to dust you shall return."
I hear the priest's utterings with every ashen cross
he forms on the foreheads of the broken.
We stand in single-file line like
people aching to be ed, aching to be healed,
aching to be whole.
At least, that's why I'm there.
And then it's my turn to receive the ashes.
The woman's eyes are kind as she
speaks over me the truth
of my mortality, repeating the words
of the priest, tracing the shape of a
cross on my skin.
To be human means to one day
return to the ground, and I blanche
at that stark reality.
But as I look around at all the broken — crosses
born on our foreheads — I realize
our humanness is what connects us to each
other and to God.
The ashes are an invitation to behold the beauty
of a God who makes humans in His likeness.
to recognize that mortality is a gift, one that
leads us to more of God and the
ever-present reality of eternity.
The smudged, ashen crosses tell a story
of Love and compassion. of a God
Who transcended heaven to
be with His people for all time.
I am marked as His, forever.
The ashy cross only a glimmer of the
imprint His Love has made on my soul.
No one can take this from us; the
truth that we are human people made
whole by a holy God.
From dust I was made,
and to dust I shall return.
And I shall do so knowing it is to
You, O Lord, I am returning Home to.
Thanks be to God.
Peace be with you,