How to Keep a Beholding Journal: using the gift of reflection to draw closer to God
Famous philosopher, Aristotle, once said,
Knowing yourself is the beginning of all wisdom.
As followers of Jesus, we know this isn't totally true. Proverbs 2:6 tells us that the Lord gives wisdom and from his mouth come knowledge and understanding. (NIV)
But I do agree with Aristotle that when we take adequate time to search our own hearts and let God search right along with us, it does help us know ourselves on a deeper level.
The practice of reflection is a tool that helps us discover a plethora of what lies beneath the surface of our souls and our lives.
Reflection, by definition, is when you apply serious thought or consideration to something; contemplate, study, consider or meditate.
Reflection is the act of looking behind you, contemplating for a while what you notice there, and then using what you gleaned to propel you forward.
Reflection is a tool we can use to pay attention to our lives, to notice the ways in which God has been faithful and continues to move, and can be utilized as a way to cultivate lasting growth.
Reflection is a tool we can use to pay attention to our lives, to notice the ways in which God has been faithful and continues to move, and can be utilized as a way to cultivate lasting growth.

Tweet
Reflection Helps Us Slow Down
Amidst a busy day or crazy season, reflection gives us space to slow down, revel in each moment, and be still. Rather than rush from moment to moment, reflection invites us to sink into our experience.
It helps us be present to what God is doing because it forces us to dig a little deeper. There's a sort of listening we're invited to take part in as we look back on our day or experience and pay attention to what our lives are made of.
When we rush, we're unable to fully listen, we can't see what it is that's bringing us life or what's draining the life from us.
Reflection invites us to slow down, unlocking a deeper connection to God's presence and the ability to listen to our right now lives.
Reflection invites us to slow down, unlocking a deeper connection to God's presence and the ability to listen to our right now lives.

Tweet
Reflection Reminds Us of God's Faithfulness
Psalm 77 is one of my favorite Psalms because we see the psalmist go from being heavily discouraged to highly encouraged. The source of his change of heart is reflection.
The first two verses in Psalm 77 read,
I cried out to God for help; I cried out to God to hear me. When I was in distress, I sought the Lord; at night I stretched out untiring hands, and I would not be comforted. (NIV)
For the next 7 verses, the psalmist continues to groan about his feeling that the Lord has forgotten him. We see him doubt God's faithfulness in the middle of his despair, all hope seemingly lost.
But then all of the sudden, there's a spark of remembrance, a song of faith that begins to burst forth from the depths of his memory.
In verses 10-14, he writes,
Then I thought, "To this, I will appeal: the years when the Most High stretched out his right hand. I will remember the deeds of the Lord; yes, I will remember your miracles of long ago. I will consider all your works and meditate on all your mighty deeds." Your ways, God, are holy. What god is as great as our God? You are the God who performs miracles; you display your power among the peoples. (NIV)
Once the psalmist looked back on his life and reflected on all the ways in which God had been faithful in the past, he was encouraged. The tool of reflection brought the hope of God to him and he was able to remember that God's faithfulness never ends even in the middle of suffering and pain.
In the same way, we too can use reflection as a way to look back on and remember all the ways that God has been faithful before. In doing so, we are encouraged and reminded that He will be faithful again.
Reflection Unlocks the Wonder of God With Us
Beholding, paying attention to how and when God moves in our right now lives, can become a monotonous task without the practice of reflection. Are there times when the wonder of God with us stops us in our tracks at a specific moment in time?
Yes!
But for most of us, finding wonderment in the ordinary mundane, searching and beholding more of God with us, can lose its wonder amidst the familiarity of everyday life.
Reflection is an invitation to look back on thin places, contemplate them for a while, and then allow God to show us what it is He's wanting to grow in us.
One of the ways I practice daily reflection is by keeping what I call a Beholding Journal.
This can also be referred to as a Thin Places Journal because it's essentially where you record all the ways in which you beheld God's presence with you each day. And remember, a thin place is any time and place when the space between heaven and earth grows thin and God's presence is felt evidently.
Now, I want to point something important out before we dive deeper. To encounter God's presence, you don't have to physically feel Him with you. God's presence isn't always a feeling, but a strong, quiet knowing that no matter what, His presence goes with you wherever you go (Joshua 1:9).
A thin place for you might be getting lost in hues of orange and pink as you stare, mesmerized, at the rising sun.
Maybe it's the smell and sound of coffee being poured into a mug.
Or, perhaps it's at the dinner table when your tribe finally gathers together after a day spent at work, school, and extracurricular activities.
Any moment can be a thin place moment because all moments are God-filled moments.
And we unlock the wonder of Christ with us when we learn to behold God in every moment, and reflection is a powerful tool that can help us do this.
How to Keep a Beholding Journal
A Beholding Journal, or a Thin Place Journal, is a reflection tool that can help you slow down and seek still moments, remind you of God's constant faithfulness, and behold God with you in the everyday.
Today, I want to walk you through how I keep my own personal Beholding Journal. If my process doesn't work for you, or you find that some of it works but other parts of it don't, then feel free to take what you need and leave the rest behind.
The goal of this practice isn't to do it a specific way, and there's no 'right way' to reflect on your own beholding. The goal of reflection is always to draw closer to God and deepen your relationship with Him.
With that being said, let's dive right into how I like to keep a Beholding Journal.
Get the Right Tools
This is the most obvious step in how to keep a beholding journal, but it's also the most necessary step! You have to have a journal and a pen in order to write down how you see God's presence moving in your life.
If you've spent some time with me this year, you know that I am absolutely obsessed with my Growth Book Notes Journal by Growth Roots Co. My mom gifted me this journal at the beginning of January and it's specifically tailored towards fostering spiritual growth throughout the year.
In the back of the journal, there is a section to write down God's faithfulness, which you could possibly use as your thin place list. There are also plenty of blank journal pages in the middle that could be used to record your beholding moments.
This might come as a shock, but I don't actually use my Growth Roots journal to record my beholding. I take up space in the back to write down God's faithfulness, but I like to go a little more in-depth with my beholding by asking myself reflection questions and I just feel that this type of reflection for me requires its own designated space.
For those of you who don't want to make beholding a daily reflective practice, the Growth Roots journal might just be a great option for you.
But, if you're like me and want to specifically track and reflect on your beholding each day, and don't want to use up all of your Growth Roots Co. Journal pages to do so, then you can grab any empty journal you like with a fancy (or not so fancy) pen to match.
A favorite empty journal of mine is the Leichtturm1917 Ruled and it can be found and ordered on Amazon.
*Spoiler alert: I'm seriously considering creating my own guided journal tailored specifically to this practice! Is this something you would use? Let me know down below in the comments!
Decide The Rhythm of Your Practice
Once you have your tools, it's time to decide how often you want to engage in this practice. Like I said earlier, there's no right way to do this! Whatever feels most natural and effective for you is what you need to do.
I've found that this rhythm is most effective for me when practiced daily, but it might work better for you to do it weekly, monthly, or even seasonally.
Daily Reflection Questions
I engage with this practice right before bed as a way to reflect on the day behind me. I sit in bed, face washed, teeth brushed, and pajamas on, and then record my responses to these three super simple questions:
Where did I notice God's presence with me today? This is where you record any thin places – any moments – that God's presence was evident. These moments can be as seemingly simple or big as you want them to be.
How did I hear God speak? I believe God is constantly speaking to us. Even in seasons of silence, when His voice doesn't seem as loud, there's always more of Him to uncover. This is a wonderful time to really reflect on the season of life you're in and what God might be inviting you into. If you don't hear Him saying anything, that's ok! Remember, He is with you always, and is constantly inviting you into communion and connection with Him. Perhaps on the silent days, you use them as opportunities to praise Him for His faithfulness.
What did I carry with me today and what do I need to release? I always use this question to process any feelings, thoughts, or concerns about my day as I ask God to reveal Himself to me. Paying attention and naming what we hold within and what we need to surrender is a necessary and powerful thing to do if we want to grow. This part of your reflection may be writing down a simple declarative statement, a promise of Who God is or who you are in Him, or you may need to take up space to process through some things. Surrender, take your time, and don't be afraid to go where the Spirit leads.
I believe God is constantly speaking to us. Even in seasons of silence, when His voice doesn't seem as loud, there's always more of Him to uncover.

Tweet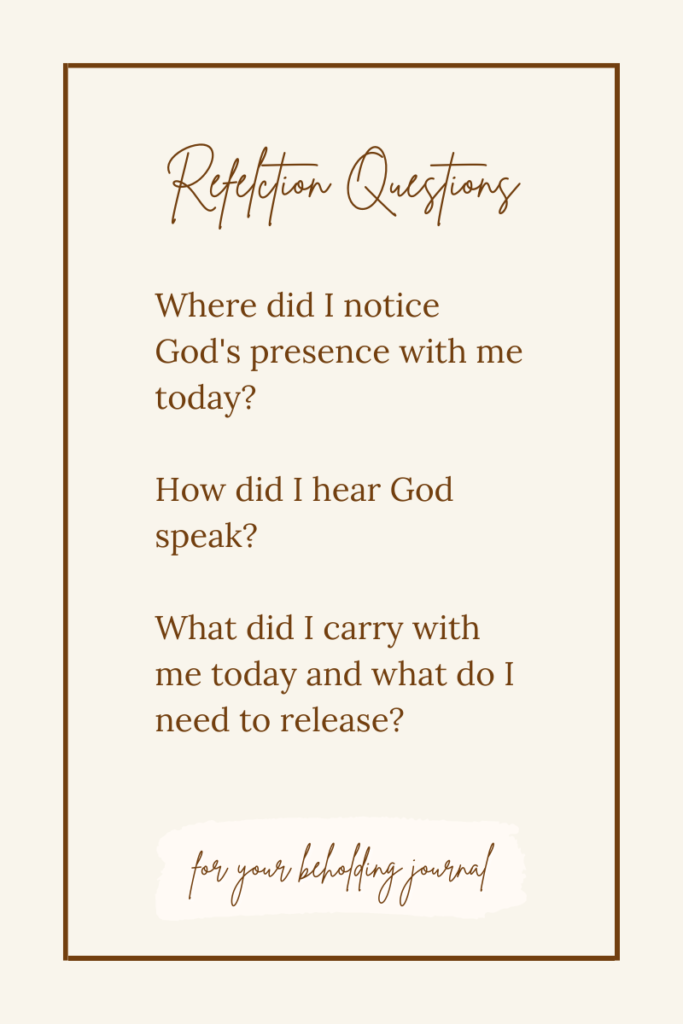 Weekly, Monthly, and Seasonal Reflection Questions
If you would prefer to engage in this practice on a weekly, monthly, or seasonal basis, then you can easily tailor the previous three daily reflection questions to read as:
Where did I notice God's presence with me this week, month, or season?
How did I hear God speak this week, month, or season?
What have I been carrying with me and what do I need to release this week, month, or season?
Space to Grow
Another philosopher, John Dewey, said this about the topic of reflection,
We do not learn from an experience. We learn from reflecting on an experience.
There is wisdom God leaves, waiting to be found, in our own reflecting and pondering. Reflecting forces us to pause, be intentional, and soak a little while longer in the presence of God.
This practice of journaling my beholding has helped me pay attention to the way the Holy Spirit and my everyday mundane, right-now life intersect. It has helped me be present to each moment and each person God puts in my path.
Feel free to play with this practice, friend, see what works and what doesn't, and mold it into a rhythm that you can set your own pace to. In fact, I would love to hear how you've made this practice your own, or what changes you might be noticing in your spiritual life as you implement this new rhythm.
Leave some feedback down below and I'll be sure to respond!
If you decide this practice of reflection is for you, friend, I pray it would help you cultivate the kind of life you wish to grow.
I pray that as you begin to be more intentional in looking for God with you, you would uncover more and more of yourself as He made you to be.
But more than anything, I pray that this practice would pull you deeper into relationship with the One who never leaves you.
May you remember, friend, that grace carries you, always.
xo,