Cast Your Anxiety on Him.
*Trigger warning: if you have experienced or struggle with panic attacks, this may affect you. So please tread lightly (or not at all) when you begin reading as I share my own experience with a panic attack and seek to share some truth in love from the word of God on this subject. 
It had been a stressful week. I knew that, so before going to bed, I grabbed my essential oils and practically bathed in them before my head hit the pillow, silently begging the Lord for a good night's sleep. I was relieved when it soon found me. But hours later, I awoke at 4 a.m, and couldn't breathe. I felt like a pound of anxiety-ridden bricks had been placed on my chest, and soon figured out I was having my first panic attack.
In the dark. At 4 a.m.
Have you ever felt this way, friend? So ridden with anxiety that you couldn't catch your breath and you were absolutely sure that life as you knew it was coming to an abrupt end? Because this is how it was for me. My heart was racing, and I couldn't catch my breath. I had never felt more anxious in my life.
After becoming self-aware of what was happening to my body, my immediate response was to breathe deeply and call out to Jesus. It took a couple of minutes, but slowly my heart rate started to regulate, my breathing returned to normal, and reality started to sink back in.
I was safe.
I was healthy.
The world wasn't ending.
But…
I was anxious.
A few hours later, when my alarm went off at 6 a.m., I came downstairs a little groggy from having tossed and turned after the whole ordeal. Even though the panic attack had subsided, I still felt anxious, and the burning question in my mind that had kept me awake was,
What the heck had caused this?
I did the only thing I knew to do with my heavy heart. I grabbed my coffee, got comfy in my favorite chair, and presented my questions before the Lord. Immediately, my spirit quickened, and I heard His still, small voice say,
Humble yourself.
Humble my, what?! What the heck does that mean? Seriously, Sis, that was how I responded to His answer. I wrestled with this response for a minute, and then I grabbed my Bible as I felt a tug at my heart to turn to the one verse that stood out in my mind as Jesus spoke those two words to me.
Go with me to 1 Peter 5:6-11 (NIV), and let's look at it through the lens of anxiety;
Humble yourselves, therefore, under God's mighty hand, that he may lift you up in due time. Cast all your anxiety on him because he cares for you. Be alert and of sober mind. Your enemy the devil prowls around like a roaring lion looking for someone to devour. Resist him, standing firm in the faith because you know that the family of believers throughout the world is undergoing the same kind of sufferings. And the God of all grace, who called you to his eternal glory in Christ, after you have suffered a little while, will himself restore you and make you strong, firm, and steadfast. To him be the power forever and ever. Amen.
Before I go any further, I want to clarify that I am not a mental health professional, friend! I am just a girl chasing Jesus on the subject of anxiety in my life, and my only hope is that what He showed me through these verses can encourage you in your own way if you have been feeling anxious lately.
With that being said, let's dive into what the Lord had to say.
Humble Yourselves. 
I find it so interesting that the command to humble yourself under God's mighty hand comes right before the command to cast your anxieties on Him. Lately, the Lord has been showing me  that I am anxious because I still have my hands wrapped tightly on the reigns of my life. Especially in this season, when life and the world have felt so uncertain and just plain exhausting. I can't grab hold of His lasting peace if I'm too busy clenching my fists in response to circumstances I cannot control. A closed hand doesn't make room for the presence of Jesus. A closed hand leads to a closed-off heart, and a closed-off heart leads to anxiety. Humbling myself looks like acknowledging that I need His presence every moment of every day. It looks like daily, uncomfortable yet life-giving surrender to the One who is in ultimate control and trusting that my heart and life are safe in His hands. 
Cast All Your Anxiety On Him. 
Why? Because He cares for you. He understands and sympathizes with all of the things and circumstances, causing me to wake up at 4 in the morning with a pound of bricks on my chest. He wants to take the weight off of me and put it onto Himself, but I have to make a choice to invite Him into the chaos that is wreaking havoc on my mind and in my heart. I have to mentally and physically choose to cast all that weighs me down and place it into His loving and gentle hands. I tend to think it's easier to hold onto the junk that's causing me anxiety. But all it does is fester and steal my peace. Casting the anxiety onto Jesus, letting go of the control, might sound scary or exhausting, but it's in the breaking of my heart that His light can actually get in. He loves me. He is for me. He aches when I do, and He is the only One capable of bringing beauty from the ashes of my anxious heart and troubled mind. 
Be Alert And Of Sober Mind. 
I have an enemy that is so vile and mean that his one purpose in this life is to make me miserable. He seeks to steal my peace, rob me of my joy, and question the goodness of my Jesus by spewing lies and casting doubt. He is quite literally prowling around, waiting to devour me. That's why it's so vital to make sure I'm connected to the vine by hanging onto the voice of Jesus. Reaching for His word and reminding myself of His truth is how I combat the lies. This doesn't mean that unwanted circumstances or troubled times will never find me. This means that through the storms of life, I am choosing to fix my eyes on Jesus rather than the doubts and the fears that seek to consume me. 1 Peter 5 tells me to resist my enemy. This takes intentionality and discipline as I lean on Jesus' strength, which is in me, and reach for truth instead of giving in to doubt, which leads to anxiety. It also says to remember the body of believers that also share in my sufferings – because we all have the same enemy. This is a reminder to me to lean on others that God places in my path and remember that people and community are a blessing given by God to help carry the burdens of life. 
Be Restored By Grace & Give God Glory. 
The only thing that lasts longer than suffering is the light of Jesus. The light at the end of the tunnel that I crave so badly is available to me amid my anxiety and uncertainty. Because once I learn to humble myself by coming under God's mighty hand and casting my cares on Him, His restorative grace is able to make me strong enough to withstand what's in front of me. It is only by His strength and His power that I can let go and allow myself to be swallowed by grace. Through each anxious experience, I am learning that it is an opportunity for me to come out on the other side, looking more like Jesus. Each anxiety-ridden moment, each unexpected panic attack is not a closed-door – it's not the end to peace. It's merely a change in direction that is meant to draw me closer to my Creator so that through each mess life throws my way, I can learn to bring Him glory. Anxiety is uncomfortable, and panic attacks are no joke, but through each moment of suffering, I am being molded to look more like Him if I choose to walk the journey in step with Jesus.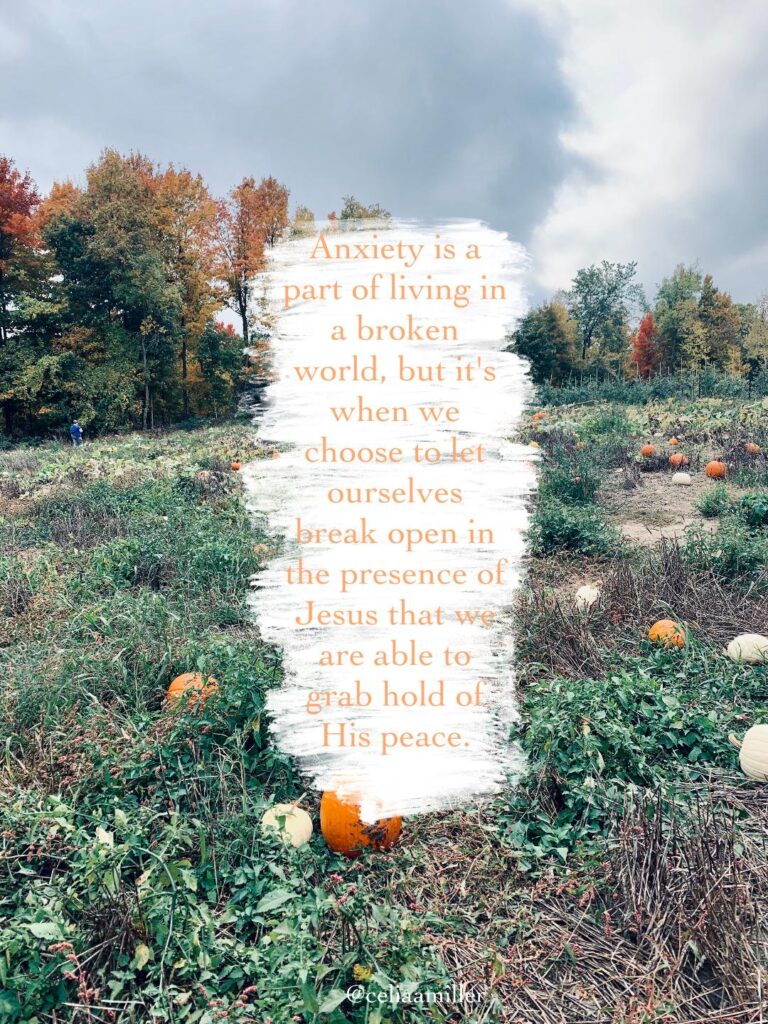 Anxiety is a part of living in a broken world, but it's when we choose to let ourselves break open in the presence of Jesus that we are able to grab hold of His peace.
My prayer is that these words the Lord has spoken to me will bring you some grace-filled relief as you seek to draw closer to Him. He is with you, Sister, and He never leaves. He is a safe place to rest your racing mind in order to be restored by grace.
Xoxo,