Silence Waters the Soul: The Benefits of a Regular Rhythm of Silence
I've noticed something about myself lately, and maybe you can relate.
My mind has been loud, my heart and soul feeling restless almost like someone cut the rope on the anchor that kept me grounded and now I'm freefalling.
Or rather, running around all over the place like a crazy person. Not a literal type of running around as in outward busyness, but an inward chaos.
Even my prayers in the morning this past week have felt scattered and forced. Bible reading or any kind of spiritual reading for that matter has felt much the same.
I realize that the reason behind these feelings is a mixture of things. I'm getting ready to step into a new season of growth as I begin reading my first "textbook" for a spiritual formation course I've decided to take. The changing of seasons, and stepping into the unknown, always make me feel a bit anxious. Excited, but nervous.
Not to mention the state of the world and what we've experienced collectively so far this year; tragedy, sorrow, loss, division, and uncertainty. To be honest, I'm still trying to process it all.
We as humans carry a lot inside of us. We're not one-dimensional beings, but multi-dimensional and very complex. There are layers of memories, hurts, longings, dreams, joys, sorrows, and tragedies that take up space within us.
Even when we forget to acknowledge them, they remain there, in the soul space between heaven and earth, waiting sometimes forever to be named.
We were, after all, created by God and fashioned in His own very likeness,
"God created humanity in God's own image, in the divine image God created them, male and female God created them." (Genesis 1:27, CEB)
God is not simple. He is not one-dimensional. He is complex and layered and altogether lovely in every way and we walk this earth mirroring His own being.
Take a second, friend, and let that sink in: you were created in the likeness and divineness of God's own being. You carry within you a plethora of emotions and layers of experiences, because He does, too.
To deny that is to deny the very nature of God.
So when we know the heart of God, as we inch closer and closer to His embrace, we catch a glimpse of our holy design.
The deeper we know God, the deeper we know ourselves; the two cannot be separated.
As I've wrestled with my own restless soul this week, I've realized that my restlessness stems from an absence of silence.
I'm convinced that without a practice of silence, a break in the white noise of this life, I can't possibly know God. Because it's in moments of silence as I intentionally turn my listening ears on to God that I can hear His voice.
It's the silence that waters my soul and reminds me to be still and know that He is God (Psalm 46:10).
It's the silence that invites my own busted, busy, broken heart to cease striving and come as I wholly am.
It's in the silence that God's promises reverberate off the walls of our souls and penetrate deeply into our own fragile being.
I've said it before and I'll say it again and again; It's in the silence that God speaks the loudest.
Mother Teresa of Calcutta echoes this truth by saying,
"We need to find God and God cannot be found in noise and restlessness. God is the friend of silence. See how nature — trees and flowers and grass — grow in silence. See the stars, the moon, and the sun, and how they move in silence. The more we receive in silent prayer, the more we can give in our active life."
Nature grows in the silence, just as our souls are invited to grow in the silence of God.
Silence waters the soul, and a regular rhythm of silence is how you care for and cultivate a healthy soul.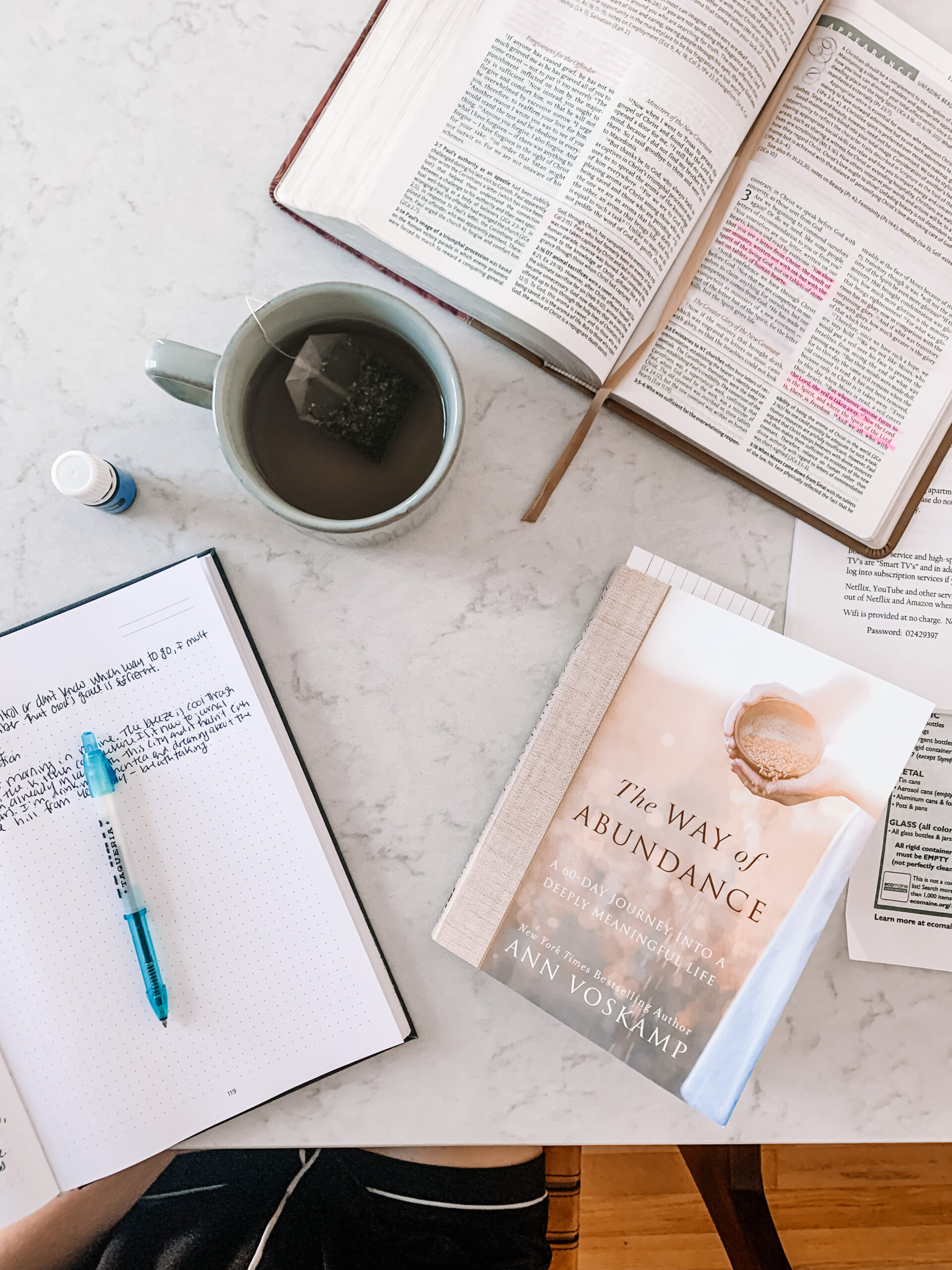 The fuel for our outside lives must come from the tending of our inner lives, and silence makes space for God to breathe life into us.
I was in tears recently, eyes closed, hands outstretched and mind surrendered, being reminded of the tenderness of the Holy Spirit's heart. I felt His gentleness come close as He gingerly cupped my face and pulled me into Him.
All at once, I was seen. I was heard. I was whole, and it all began with the invitation to be silent and let God speak.
I haven't always been comfortable with silence, and sometimes I still struggle to surrender to it. It wasn't until I began spiritual direction that I truly witnessed the power of silence in God's presence.
Once a month, I meet with my spiritual director. And every single time we begin, we begin with silence. Deb, my spiritual director, knows that I'm meeting with her at the tail end of what is most likely a busy work day. So each time we meet, she welcomes me into silence and asks me to pay attention to what I'm carrying within me that day.
Not only does silence create space for God to speak, but it also invites us to create space for our own souls to speak. It's an invitation to name and pay attention to what we're carrying; to bear witness to the life we're actually living.
To bear witness to our own humanness.
To give ourselves space to breathe and emerge a more whole and holy human created in the divine likeness of a whole and holy God.
To unravel layer after sacred layer of who we are in Christ because the deeper we know God, the deeper we know ourselves.
I know that silence can seem intimidating for a lot of us, being conditioned to such a fast-paced, noisy world where we can get pretty much anything we wish for delivered right to our door at the click of a button.
But there's so much freedom in silence, friend. The freedom to show up, lay it all out and down, and wait on the Lord to do the rest.
Psalm 27:14 in the Amplified version says,
"Wait for and confidently expect the Lord. Be strong and let your heart take courage; Yes, wait for and confidently expect the Lord."
Wait for and confidently expect to encounter the Living God. Silence is only intimidating if we believe the lie that God isn't present. The truth is that God's presence is always present, and silence makes us keenly aware of His presence.
Ann Voskamp says,
 "You don't practice His presence. You practice being present to His presence in this present moment. Practicing the presence of God is the practice of self-discipline. In the midst of everything calling for my attention – the point is never to stop leaning into the One who is calling me."
And the Spirit calls to you now, calling you Beloved, beckoning you to be still, to be silent, and to listen for His presence. When we learn how to listen to Him in the silence, we learn how to behold Him in the noise.
Beholding really starts with listening, and listening starts with silence.
"Know this, my dear brothers and sisters: everyone should be quick to listen, slow to speak, and slow to grow angry." (James 1:19, CEB)
When we're quick to listen, we're quick to love.
And that's where all of this leads to, friend. Silence leads to listening which leads to loving, and our world and the people in it could use a whole lot of Kingdom loving.
May these words today ultimately be an invitation into love; the love of God received in silence and then poured out loudly. Because the more you hear and see of God the more you can't help but love those made in His image, His breath, His heart.
Let these words be an invitation to enter into silence today. Get quiet in your own little corner of the world, close your eyes, extend your hands if you'd like, and ask the Spirit to speak.
Then, wait quietly and confidently and expect the Lord to reveal Himself.
When words cease, love can be received.
May silence in God's presence be your own kind of spiritual sword, laced with love and fashioned with peace.
xo,