Sailboats & Surrender: Lessons from the Coast of Maine
I thought it would be the lighthouses that would beguile me. But it wasn't the lighthouses, it was the sailboats.
After four years of dreaming about a trip to Maine, my husband and I finally decided to book our plane tickets and Airbnb and spent a week in Portland, Maine. Portland was the perfect city for novice Maine-goers like ourselves, as it was absolutely brimming with restaurants, shops, taverns, and pubs.
Portland is on the coast of Maine, and my dream of experiencing a lazy, quaint Maine harbor town finally came true. While the city of Portland was buzzing, the harbor was quiet and calm.
There was this massive hill on the east side of Portland that gave the most breathtaking view of Casco Bay. The Atlantic on the coast of Maine is a bit unpredictable (much like the weather); one minute steady and pacified, and the next wild and raw, waves crashing and swelling with gusts of wind.
I'm usually one that doesn't adhere to change well, but for some reason, I found solace and comfort in the unpredictability of the sea. I think it's because I know that the sea has no other master than God Himself. It does exactly what it's supposed to do; shifts and changes and pulls the tide in and out and can be both dramatic and placid all at once.
I envy its fearless ability to be absolutely itself.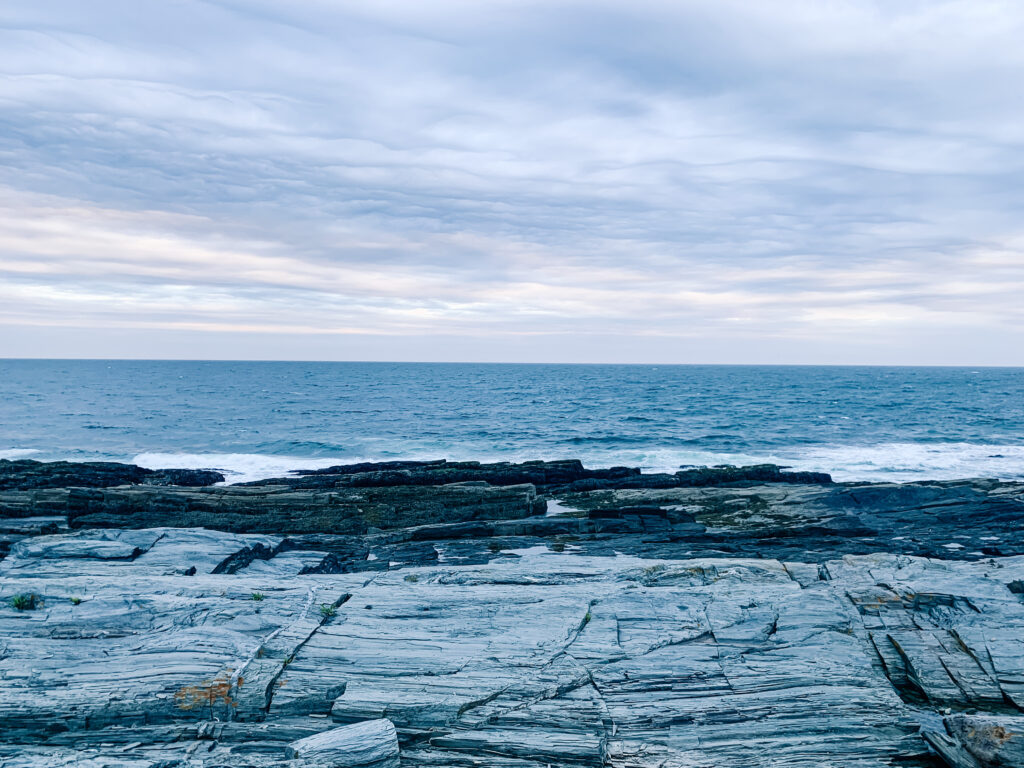 The Breath of Life
My favorite thing to do on top of that giant hill was to watch the sailboats come and go. While the sea is at the mercy of God, the sailboats and their captains are at the mercy of both. I learned quickly in Maine that when it comes to boats, no matter how big or small, the wind and the waves play a major part in how you experience the sea, or if you get to at all.
I looked up the symbolization of a sailboat, and it represents a journey, voyage, and adventure. They also symbolize being carried along by the "breath of life", as its primary form of momentum is gained through the wind in its sails.
Maybe that's what subconsciously drew me to them. While I fell in love with the sea for fiercely being its raw, wild self, I think I fell in love with the sailboats for their ability to surrender to the beautiful chaos of it all.
Sailboats are powered by wind – the breath of life, as their symbolization tells us. But we, too, are alive with the breath of Life inside of us.
"Then the Lord God formed a man from the dust of the ground and breathed into his nostrils the breath of life, and the man became a living being." (Genesis 2:7, NIV)
I carry with me the living God, His very breath, inside my living soul. And from that very first breath, from that very first face-to-face moment with God as we enter this world, we are meant to be carried by that very breath.
Like the sails bend to the wind, we were created to bend to the will of our good and faithful Father. We were created to surrender to the changing of the tides and yield to the waves that are bigger than we are.
Surrender Isn't Weakness
I think a misconception about surrender is that it means we're giving up; that weakness wins.
But when we surrender to the will of God in our lives, when we obediently follow where He leads even if it's not what we expected or wanted, our weakness leads to God's strength. And that is always a win.
When we obediently follow where God leads, even if the waves seem tall and the wind rips and tears at our faces, His power and love always win.
Surrendering to the voice and will of God, stepping out of or into the boat always leads to growth. It always leads to more of God.
One of my bucket list items on our trip to Maine was to get a tattoo. I have a few already, but it's been quite a few years since my last. And because Maine was such a dream of mine to visit, I wanted to walk away with a more permanent kind of souvenir.
I had made up my mind that the tattoo I would get would be a lighthouse. But that was before I saw the sailboats.
That was before I heard the whisperings of the Holy Spirit utter,
"Let go, abide, and let me carry you."
Lessons of Surrender from the Coast of Maine
This is one of the biggest lessons that Maine taught me: I need to let go.
Let go of the illusion of control that I keep clenched so tightly in my fists like a security blanket with holes in it. Let go of the desire to know what's next and the need to have a plan. Let go of the fear, the doubt, and the what-ifs.
A sailboat goes where the wind takes her, and as I stare at the sailboat etched into my left wrist, I want to go where God leads me.
I want to be carried along by the breath of Life and surrender to His will.
But wanting and doing are two very different things, and I'm a forgetful one. In the middle of the storm, I forget the call to be carried, the invitation to surrender, and I pick up that battered security blanket and wrap myself up in it all over again.
Do you do this, friend? Do you, too, have the desire and longing to be carried but you're not sure how?
You're not alone.
We will never "arrive" at perfection on this side of heaven but we can choose to grow. And most of the time that growth begins with our letting go.
So, if you're a forgetful one like me, here are two things we can hold fast to on this journey of continual surrender:
1. Surrender is an ongoing journey and grace is abundant
I'm a recovering perfectionist and control freak. Those are two of my consistent vices. So grace is something I have learned, and am still learning, how to give myself. But if we're going to be a surrendering people, we must believe the truth that the goal is never to be first or to be perfect.
The goal is always to look more like Jesus, and the reality is, that journey can get a little messy.
Heck, Jesus' journey on earth was more than a little messy! Wouldn't you agree? If we look at His life it was filled with interruptions, confrontations, frustrations, and eventually death. But Jesus never focused on making the journey seemingly pretty or perfect. He focused on doing His Father's will, and we see proof of this in John 6:38,
"For I have come down from heaven not to do my will but to do the will of him who sent me." (NIV)
Jesus abided in His Father; that was His main goal, that was the whole point. And in doing so, He hung on a cross so that He could spend eternity with us. Can you imagine if His focus had been on pretty and perfect rather than broken and busted?
Jesus' journey was messy, and ours will be, too and that's ok. Learning to surrender is a journey, not a destination. For the journey, we must learn to receive grace upon grace and focus on abiding rather than striving.
2. We must know and trust Who God is
Trust and surrender go hand in hand. It's much easier to surrender to someone you know rather than someone you don't. And just in case you're a forgetful one like me, I want to remind you of Who this great big God is that we long to bend to with some holy words from the Word itself.
Now to him who is able to do immeasurably more than all we ask or imagine, according to his power that is at work within us, to him be glory in the church and in Christ Jesus throughout all generations, forever and ever! Amen. (Ephesians 3:20-21, NIV)
"The Lord is good to all; he has compassion on all he has made." (Psalm 145:9, NIV)
"He is the Rock, his works are perfect, and all his ways are just. A faithful God who does no wrong, upright and just is he." (Deuteronomy 32:4, NIV)
"This is love: not that we loved God, but that he loved us and sent his Son as an atoning sacrifice for our sins." (1 John 4:10, NIV)
"Yes, because God's your refuge, the High God your very own home, Evil can't get close to you, harm can't get through the door. He ordered his angels to guard you wherever you go." (Psalm 91:9-11, MSG)
"Where can I go from your Spirit? Where can I flee from your presence? If I go up to the heavens, you are there; if I make my bed in the depths, you are there. If I rise on the wings of the dawn, if I settle on the far side of the sea, even there your hand will guide me, your right hand will hold me fast." (Psalm 139:7-11, NIV)
One of the greatest ways to get to know God is to continually get into His Word. It's full of God's promises about Who He is and who we are in Him and it's where He longs to meet us and mold us.
So, maybe hold onto a few, or all, of these truths. Memorize them, read them, rest in them, and recall them when the storm starts to swell. Knowing who God is, knowing and unraveling His heart, is how trust begins to form.
And trust leads to a more simple surrender because you know the One who calls you.
Breath by Living Breath
I sit now in a hotel in Baltimore, Maryland, as our connecting flight home from Maine was canceled and rescheduled for early tomorrow morning. My suitcase, full of my entire life (at least that's how it feels at this present moment) is on a plane that I'm not on, headed for Indianapolis.
Ugh.
I have my laptop, my Bible, a few books, and snacks from my carry-on. I don't have my toothbrush or pajamas or even deodorant. But, as I stare at the sailboat etched onto my left wrist, I remind myself that God is good and I have what I need.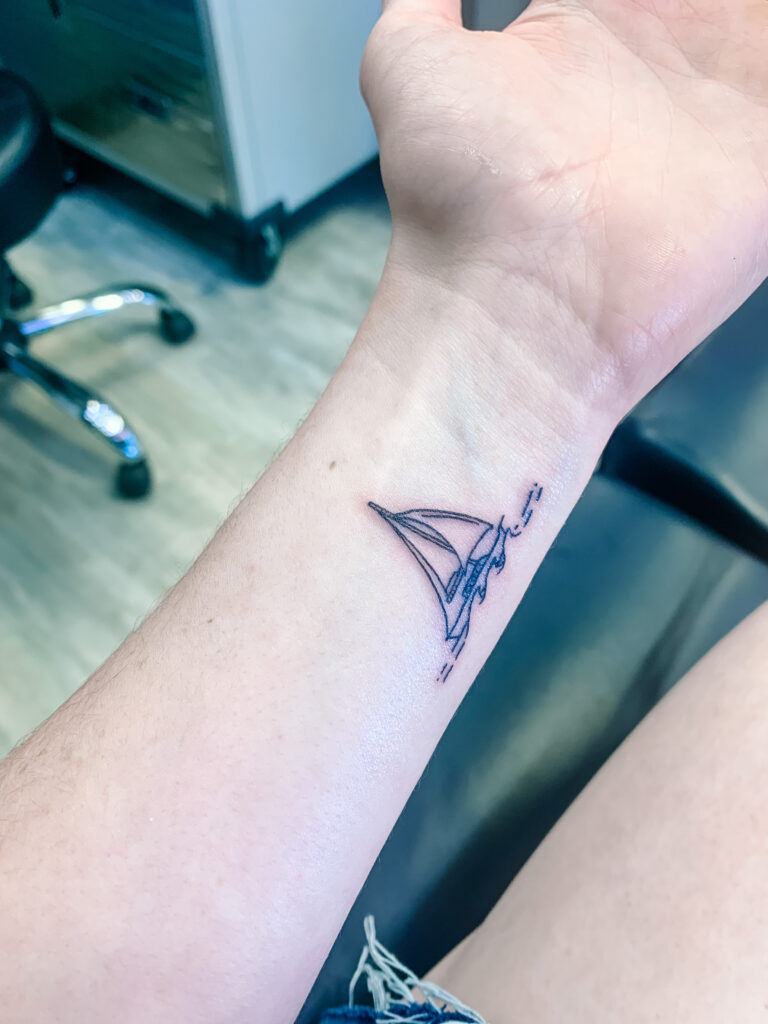 I hold close the truths of God that I wrote for you above as I gently remind myself that I was created to be carried by the breath of life. I was not created to control or to even know what comes next.
Even in a hotel room that I didn't want to book, God is here. God is present. God is faithful. And I am held.
Moment by moment, breath by Living breath – I allow myself to sink into surrender.
xo,