Behold Him.
You, God, are my God, earnestly I seek you; I thirst for you, my whole being longs for you,in a dry and parched land where there is no water. I have seen you in the sanctuary and beheld your power and your glory. Because your love is better than life, my lips will glorify you. I will praise you as long as I live, and in your name I will lift up my hands.
-Psalm 63:1-4
I will forever remember 2020.
Not just because of the chaos an unknown pandemic created, but also because, for me, it was a year of seeking and thirsting for God. Like King David, wandering around in the Desert of Judah when Psalm 63 was written, I, too, found myself longing for more of Him this past year.
2020 was a year full of unexpected interruptions and newfound anxiety. It was a year of navigating tumultuous waves of fear and uncertainty. It was a year of grasping and reaching, and surviving.
But it was also a year of beautiful, painful, and unexpected growth.
I learned this past year that suffering not only creates perseverance and hope. But, if allowed – if chosen – suffering and brokenness can also push you closer to the heart of Jesus. It can create a thirst that cannot be quenched by anything or anyone but His perfect and peace-filled presence. It can create a longing so great, that you're left with no choice but to seek out the only One who can provide you with a full and abundant life. Jesus.
And that is why I refuse to look back on 2020 and see only the ugly.
Because anything that pushes me to the feet of Jesus couldn't possibly be ugly. At least, not all of it.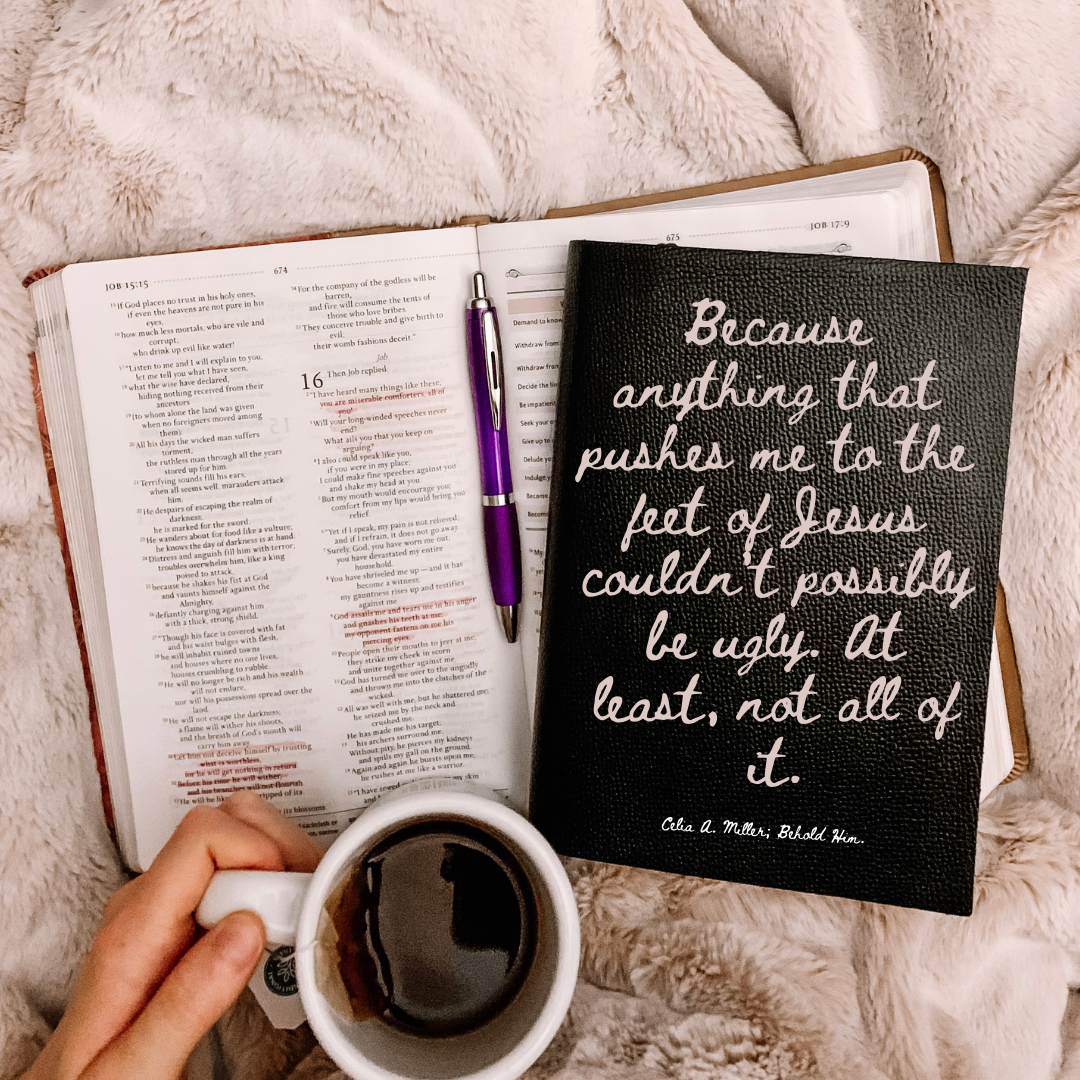 Was it a challenging year? Heck to the yes, friend. There was so much pain, brokenness, hurt and fear that spread itself worldwide and into the hearts of everyone. I definitely do not want to take away from the reality of those emotions because they are real and true, and it's more than okay to feel them.
But when I choose to focus only on the bad, I lose sight of His goodness. I lose sight of the many ways Jesus has worked within my heart and in my life this year.
I lose sight of Him.
God took a year of uncertainty – a year of chaos – and used it to anchor my heart to Him: the only One who is constant, unmoving, and unchanging.
And through this tethering of my heart to His, I feel like I began to truly see Him for the very first time.
I find it interesting that in Psalm 63, David sees God in the sanctuary and beholds His power and glory after the seeking, the thirsting and the longing.
So like David, I have begun to behold His power and glory because I chose to start paying attention to His wrap-around presence at work in my life. I decided to respond to the longing and thirsting, and I have allowed it to push me toward seeking Him. For the first time in my Christian life, I now know what it means to truly unwrap the gift that is Emmanuel: God With Us – God With Me.
At the end of each year, my family has this tradition of choosing a specific word for the upcoming year. It's one of my favorite family traditions because it's a time for me to get silent in the presence of Jesus and seek Him as I ask Him where He wants me to place my focus in the new year. For me, it's a time of great anticipation. Every year I've gone to the Father and asked, and every year He has been faithful in answering me by giving me a word or a phrase to focus on for the year ahead.
This year's tradition was to be no different as I sat in the early morning hours with my tea in hand, in my favorite chair with my coziest blanket. My Bible was open in front of me as the words of Psalm 63 took on a new and very real meaning.
"I have seen you in the sanctuary and beheld your power and your glory." – Psalm 63:2
Oh, Lord, how I long to behold more of you.
And as I prayed that simple prayer, I heard the Lord smile and say,
"Oh, Beloved, you're already beginning to. But this will be the year of beholding all of me."
This will be the year of beholding God in every aspect of my life…
In my everyday, mundane moments.
In the faces of the people around me.
In the dreams and goals He has laid on my heart to pursue.
And in all of the spaces in between: the interruptions, the unexpected twists and turns, the broken days, and the whole days.
This will be the year of beholding more of Him and becoming more aware of His constant presence with me and within me.
He's not only with me when I sit down to have my quiet time in the morning or when I open up my Bible or only when I sit down in church.
He's with me always. He longs for me to reach out and take the hand that is already holding me and deepen my relationship with Him by beholding Him – by seeing Him.
Behold.
So my prayer for 2021 is that the eyes of my heart would be opened so I can see Him. So I can experience Him and relish in the joy, and the gratitude and the peace that is sure to come from a life lived beholding God.
My prayer for all of us this year, sister, is that we would set our rhythms to the pace of Jesus and slow down long enough to see His presence with us.
xoxo,