Givenness Through Brokenness.
We decided to send out Christmas cards this year.
In the four years that Max and I have been married, we've never mailed out Christmas cards to loved ones. Looking back, I think it was because Christmases past haven't felt as lonely or foreign as Christmas this year. There wasn't the kind of emptiness then that now lies in the wake of 2020. In the past, My husband would choose a family picture, slap it on a Walmart photo Christmas card, and then send it only to his clients from work. I was never involved in the process, nor did I honestly care to be. This year though, I decided to go with him on his little venture.
As I stood at the photo kiosk in the middle of Walmart watching him construct this year's card, I had a strange desire to give more of myself away through those cards. I wanted to print a million of those little Walmart Christmas cards off and send them to everyone I knew. I wanted every single person who had felt the fear, sorrow, and loss of 2020 to get a 25 cent Walmart Christmas card. So, I told Max to scooch over, and together we constructed a Christmas card that didn't cost much but will hopefully mean much more to the ones on the receiving end.
Through the simple act of sending a Christmas card, of being the giver rather than the taker, I felt my bucket filling up. With every stroke of my pen as each plain white envelope was addressed, my heart grew warmer. Amid the chaos that has been and still is 2020 – with the fear and the uncertainty and everything in between – I had forgotten how life-giving it could be to give bits of myself away even in the middle of a storm.
Maybe those Christmas cards won't mean much to some receiving them, and that's ok. The point of giving isn't what is given. The point of giving is to show others that they're not alone and that you've remembered them when perhaps others haven't. The point of giving is to give small bits of yourself away to make someone else feel a little more whole. As small pieces of my heart were given inside those plain white envelopes, I found that it was me who felt a tad more complete.
It's possible to give in the middle of chaos, in the middle of storms. That's what sending off those Walmart Christmas cards taught me this year. It's possible to give when you feel broken and a little bruised. In fact, maybe that's when you're supposed to give of yourself the most.
Isn't that what Jesus did, even as He hung broken and dying on a cross?
And when they came to the place that is called The Skull, there they crucified him, and the criminals, one on his right and one on his left. And Jesus said, "Father, forgive them, for they know not what they do." – Luke 23:33 ESV.
Even in His last moments, the King of Kings hung dying on a cross begging for grace for the very people who put Him there. He gave Himself for our freedom – the ultimate gift – and as if that wasn't enough, He cried out to the Father to give us grace for the heinous crime of murdering our Savior.
"Father, forgive them, for they know not what they do."
The Giver, as blood ran down His face and nails pierced His limbs, gave the ultimate gift of Himself and then decided to keep on giving.
To say this year has been challenging would be a vast understatement. It's been scary, lonely, exhausting, and tumultuous. As we get closer and closer to the Christmas season, it doesn't feel like a "holly, jolly Christmas" this year. It feels a little strange, a little lonesome, and a little tiring. For some, it may even be a whole lot painful.
This year for advent, I decided to purchase Emily P. Freeman's "Quiet Collection for Christmas." It's a 10-day audio devotional designed to get our minds fixed on Christ as we approach Christmas and help ease the distractions and anxiety of the chaos that has been and still is, 2020. This morning, as Emily's voice drifted through my headphones, she spoke of Mary, the mother of Jesus, and what she must've been feeling when the angel Gabriel told her she would give birth to the Savior. As Emily continued, she said something that I haven't been able to get out of my head:
"Mary carried the life of a baby born to die. And in her life as well, some things died that day. Even as new life grew within her, the eternal life of God, there were things she couldn't take with her into this new life. Certainties, plans, control, understanding, reputation, even though hers was a willing release: "May it be done to me according to your word (Luke 1:38)." That doesn't mean it was easy, and it doesn't mean there wasn't loss in the gain. The future death of Christ was tucked deep inside his life, and Mary's loss would one day become the whole world's gain."
God sent His Son to be given up and crucified for our sins, and He did it out of love, love for us. Mary carried and then raised the Son of Man – first out of obedience – and then out of a givenness so tender and selfless that it eventually led to the breaking of hell and the defeat of darkness.
In her humanness, Mary was an imperfect giver who gave herself to the perfect Giver who would then give Himself to a broken and dying world.
He gave Himself to you and me, even as we sit here broken and decaying.
It began with a ruined reputation as Jesus grew in Mary's womb, and it ended with a broken body as Jesus hung on that cross at Calvary.
Because two people chose to break open and give of themselves, we gained an eternity with Christ. An eternity wrapped in His love and covered by His grace. An eternity lived in complete and total freedom in Him.
So, yes, my friend, it is possible to give out of a broken heart. Because when we choose to give even in our brokenness, we gain the Giver Himself, and our buckets become full while the receiver's heart becomes whole.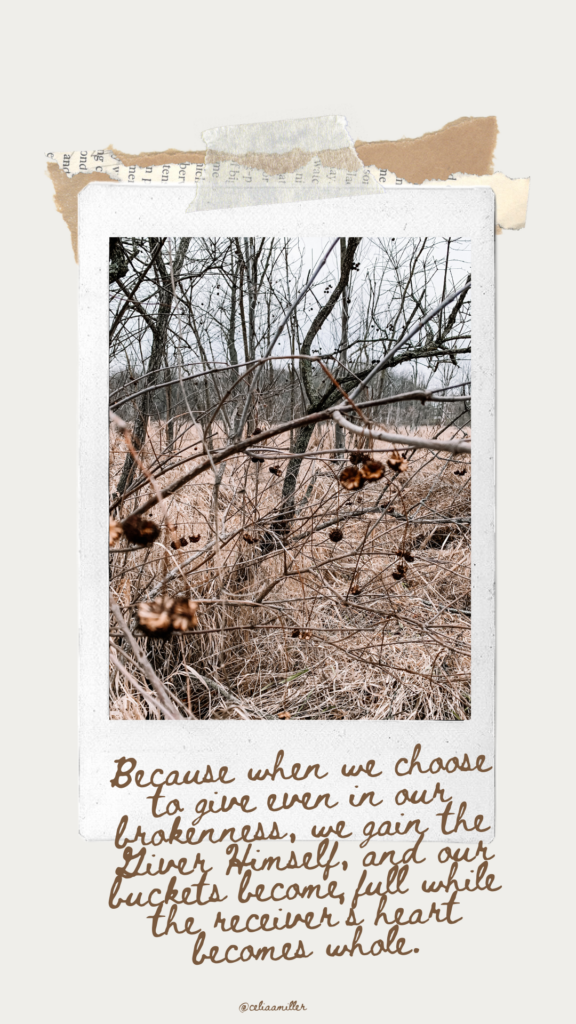 I'm praying that as we approach this Christmas season – broken, battered, and a little bruised from this year – we remember the One who came to earth to be broken for us. I pray we remember to give ourselves away in the name of Jesus and find comfort in knowing that there's no such thing as a broken gift; only broken hearts made whole by givenness.
He is with you, sweet friend, and you are fiercely loved by Him who gave everything to spend eternity with you. 
P.S. Emily P. Freeman's, The Quiet Collection for Christmas, has been a great way to get my heart fixed on Jesus during this Advent season. For $10 you'll receive 10 days of 5-8 minute audio devotionals delivered right to your inbox, one day at a time. This isn't a sponsored post, I just truly love her words, friends! If this Advent season has felt heavy or rushed, lonely or unknown,  it's not too late to sit in stillness and let truth remind you of the true miracle of Christmas. Here's the link – The Quiet Collection for Christmas.
Xoxo,