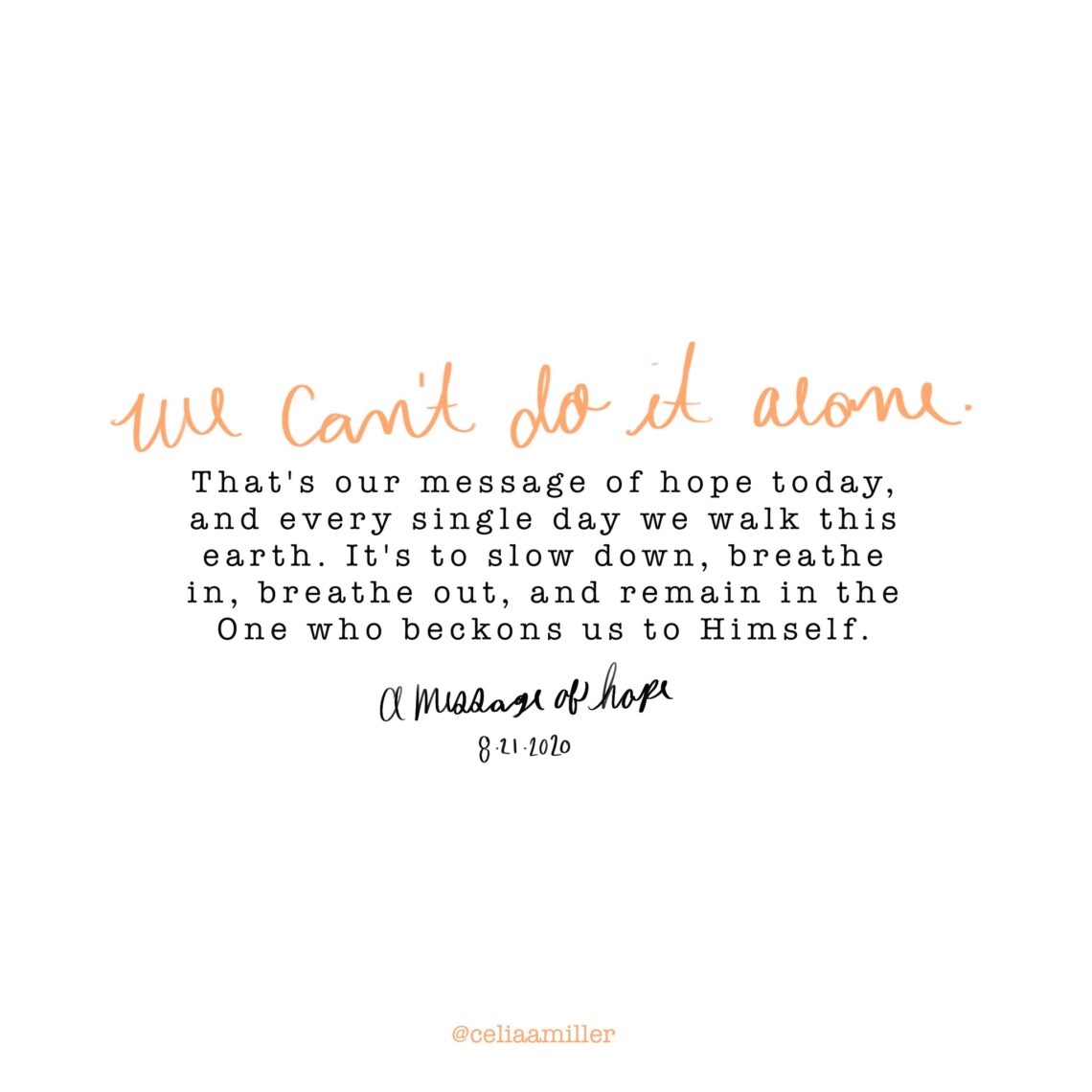 Remain in Me.
Slow down, Beloved, and walk with Me.
I hear Jesus whispering those words to my weary soul, who likes to run ahead, rather than walk in step with Him who makes me whole. I am tired, Sister. This year, with all of its twists and turns, has left me feeling whiplashed. Maybe you're in that same boat with me, Sis, or perhaps you're thriving! Whether you're in the boat on rocky waves or standing on the shore in celebration, I have a message of hope I want to share with you.
Because even if you are on the shores of joy, there will come a time when your heart needs this message. If you, Sister, are in the boat of sorrow or uncertainty, I pray you physically feel the arms of grace that are about to come at you through your screen.
It's ok to be weary, and it's ok to be tired. Instead of trying to pick ourselves up off the floor, I think it's time we reach for the hands created to hold us. The hands that ache to hold us. It has been a year of massive change filled with unknowns that, for some, have caused sorrow and heartbreak. Some of our wounds run deep or have possibly reopened, and lives have flipped upside-down. I feel like we're all reaching around in the dark, grasping for some sense of certainty, but we've been met with more questions and more uncertainty.
As a result, maybe you've been afraid or left feeling raw and exposed. Me? I feel tired. I know that the presence of the Holy One never leaves me, but sometimes when I can't feel Him with me, I forget Whose I am.
That's why my message of hope today rests in the One who beckons me to remain in Him and walk with Him. Take a look at John chapter 15 verse 4 with me today, Sister, because that's where this message of hope comes from –
Remain in me, as I also remain in you. No branch can bear fruit by itself; it must remain in the vine. Neither can you bear fruit unless you remain in me. (NIV)
Do you see it, Sis? Take another look.
No branch can bear fruit by itself; it must remain in the vine.
We can't do it alone. That's our message of hope today, and every single day we walk this earth. It's to slow down, breathe in, breathe out, and remain in the One who beckons us to Himself. In this season of uncertainty, as we sit in the boat of the unknown, Jesus invites us, beckons us, to walk with Him. Not run ahead, not sit out on the sidelines, but walk faithfully in step with our Creator. Our hope rests in remaining in Jesus and allowing Him to carry us through.
Let's keep reading in John chapter 15, verses 5 through 8 –
"I am the vine; you are the branches. If you remain in me and I in you, you will bear much fruit; apart from me, you can do nothing. If you do not remain in me, you are like a branch that is thrown away and withers; such branches are picked up, thrown into the fire and burned. If you remain in me and my words remain in you, ask whatever you wish, and it will be done for you. This is to my Father's glory, that you bear much fruit, showing yourselves to be my disciples.
Another part of my message of hope today is this…
Your painful seasons don't define you.
Your Father in Heaven defines you! A Father whose most significant requirement of you is to walk with Him, remain in Him. He is so good that He alone can bring good fruit, lasting fruit, from your seasons of sorrow. Those ashes you see falling all around you right now? They are simply the old branches of your life dying away that no longer serve you or your Maker. Those ashes are confetti of an old life and a former self being made new by the presence and the pruning of Jesus.
So, Beloved, rest today in the arms of your Savior as He alone is the only One capable of carrying you through the fire. As you sit in the boat with the waves threatening to overtake you, look up and see Jesus, who commands the sea to still and the boat to stop rocking.
I am tired. I have days where I'm a little soul weary and discouraged, but my hope rests in the slow and steady pace of Jesus. He's never late, and He's never early. He's always right on time. This is why I know there's a purpose for us this season, and it's precisely why I'm reaching for the Hand that holds me still.
Xoxo,